Diffraction Grating Calculator are physic/math calculator to calculates the angles of diffracted orders of monochromatic light when shone on a reflective diffraction grating.
Features:
- Instant calculation
- Result are copy able to other app
- Formula are include as reference
- Support up to 16 decimal place
- Support various unit for each input
In optics, a diffraction grating is an optical component with a periodic structure that splits and diffracts light into several beams travelling in different directions. The emerging coloration is a form of structural coloration. The directions of these beams depend on the spacing of the grating and the wavelength of the light so that the grating acts as the dispersive element. Because of this, gratings are commonly used in monochromators and spectrometers.
A diffraction grating is a material that contains a large number of parallel slits separated by a distance (d). This periodic separation of slits is usually on the order of micrometers. Because this distance is on the order of the wavelength of light, when light waves pass through the grating the slits are able to cause constructive and destructive interference among the light waves. The waves will constructively interfere if the angle of reflection delays one of the waves by a whole wavelength.
Diffraction grating equation
m * λ = a * sin(θm)
Where:
m: The order number of the diffracted image, m=1,2,3 ...
θ: Grating angle, in radian
a: Grating Spacing, in lines per meter
λ: Wave Length, in meter
*This is a universal app that work for both iPhone and iPad.
Thanks for your support and do visit nitrio.com for more apps for your iOS devices.
ScreenShots: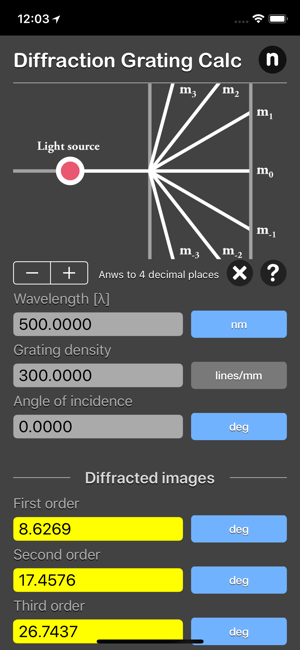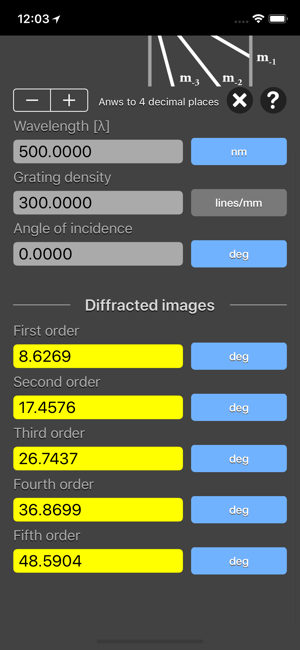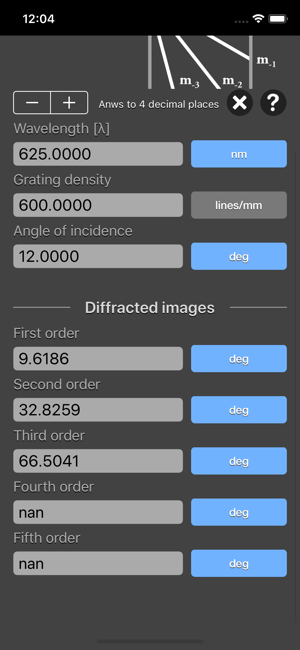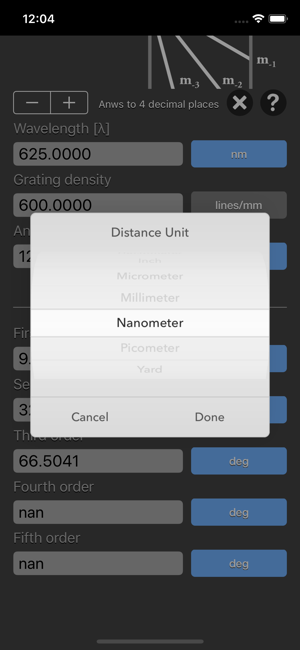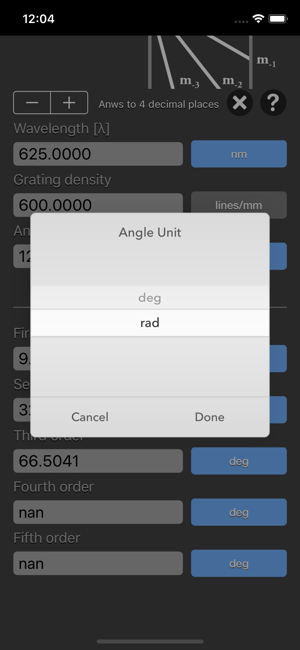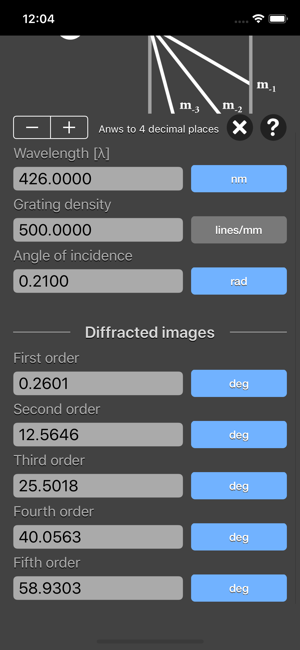 Get Diffraction Grating Calculator for iOS from Itunes App Store